The refugees problematique and the access to the right to asylum in Mozambique (1975 - 2017)
La problématique des réfugiés et les modalités d'accès au droit d'asile au Mozambique (1975-2017)
A problemática dos refugiados e as modalidades de acesso ao direito de asilo em Moçambique (1975- 2017)
In Mozambique since the fade away of the internationalist ideology of asylum, mechanisms of access and control to that universal right are regulated under the scope of ACNUR. Notwithstanding the fact that such mechanisms draw from international treatises and that the country is presented as a generous place for refugees, everyday situations prove the opposite. Refugees face challenges such as restrictions to entry the country and deportation, practices that suggest non compliency to non-refoulement and at the best they keep struggling for years to get the refugee statute. Such contradictions highlights the contribution of Mozambique in the context of the ongoing global crisis, on the right to asylum, that is shaped by the preponderance of sécuritaires issues against the logic of assistance and defence of human rights. In this context refugees find themselves living in the limbo of society and are turned into quasi-citizens, unwanted and tolerated foreigners relying on international assistance for decades.
Au Mozambique depuis l'abandon de l'idéologie internationaliste d'asile, les mécanismes d'accès à ce droit universel s'inscrivent dans les cadres des catégories de la pensée et modes d'actions du HCR. Ces mécanismes, bien qu'ils respectent les textes internationaux et reposent sur l'idée d'un pays généreux, bon lieu d'accueil pour les réfugiés, montrent le contraire dans la pratique : les difficultés d'accès au droit d'asile, les restrictions d'entrée et la reconduction à la zone de provenance persistent – soit des pratiques qui indiquent la violation du non-refoulement - et de nombreux demandeurs d'asile restent de longues années sans le statut de réfugiés accordé pour le gouvernement. Cette contradiction met en évidence la contribution mozambicaine dans le contexte global de crise du droit d'asile attribué de façon technocratique lorsque les questions sécuritaires se superposent à la logique d'assistance humanitaire ; les réfugiés vivent de façon ambiguë, en marge de la société, en se transformant en quasi citoyens, étrangers tolérés, indésirables et dépendants de l'assistance internationale que se perpétue depuis plusieurs décennies.
Em Moçambique desde o abandono da ideologia internacionalista de asilo, os mecanismos de acesso e controlo deste direito universal enquadram-se nas categorias de pensamento e modos de acção do ACNUR. Tais mecanismos apesar de, formalmente, respeitarem os textos internacionais, considerar-se que o país é generoso, bom local para se ser refugiado, a prática mostra o contrário, persistem dificuldades de acesso ao asilo, restrições de entrada, recondução à zona de proveniência - práticas que indiciam a violação do non-refoulement - e permanência por longos anos sem o estatuto de refugiados acordado pelo governo. Esta contradição evidencia o contributo moçambicano no contexto global de crise do direito de asilo, atribuído de forma tecnocrática onde questões sécuritaires se sobrepõem a lógica de assistência e defesa dos direitos humanos; os refugiados vivem de forma ambígua, à margem da sociedade, transformando-se em quase cidadãos, estrangeiros tolerados, indesejados e dependentes da assistência internacional que se perpetua por várias décadas.
Fichier principal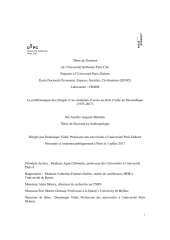 MIAMBO_Aurelio_Augusto_2_va_20170703.pdf (4.38 Mo)
Télécharger le fichier
Origin : Version validated by the jury (STAR)